Monthly Meeting Announcement
This Month's Speaker : Devin Jaiswal, Microsoft
Bio:
Devin is a part of a highly skilled architecture team dedicated to delivering a high return on investment for our client's IT spend in the data platform space. Devin's rich history in business analytics, management information reporting, IT compliance, and production environment management provides a unique cross section of experience that allows him to assess performance along the entire data delivery chain (source extract, ETL, data modeling, BI reporting, and ad hoc analytics). This ability to address all aspects of the client's environment provides the increase in business value clients realize from their business intellectual property.
Title:
Introducing Azure SQL Database Managed Instance
Abstract:
SQL Database Managed Instance is an expansion of the existing SQL Database service designed to enable database migration to a fully-managed database service, without re-designing the application.
It's important to note that Managed Instance isn't a new service – it is a third deployment option within Azure SQL Database, sitting alongside single databases and elastic pools. As part of Azure SQL Database, Microsoft's fully managed cloud database service, it inherits all its built-in features.
Discount Code to PASS Summit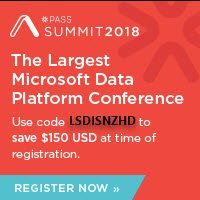 Thanks to our Sponsors!